ALL IN ONE CUSTOM
SHOPPING EXPERIENCE.
SUSTAINABILITY
Products don't have to be made of 100% recycled stuff to be environmentally friendly, socially conscientious and sustainable. Consider this: These days, apparel has turned into throw-away clothing, a lot of it made with the intent for it to be tossed after a short time – what many would consider wasteful. DotDotSmile never takes this approach. Our secret is in our clothing being made to last. Worn through years. Handed down to younger siblings. Some customers who have been loyal to DotDotSmile from the beginning are loyal because their kids and their customers still have clothing from years ago. That's unbeatable and uncompromising quality. And that's how we approach every product.
WRAP CERTIFICATION,
DotDotSmile is certified in Worldwide Responsible Accredited Production, which
assures every bit of our custom children's clothing is created within the framework of a global effort to support fair wages and living conditions for workers and to help eliminate child labor and forced labor. WRAP certification means DotDotSmile takes the critical added step of assuring our products are made safely, legally and ethically. We take our stewardship in creating exceptional children's clothing seriously, as a globally and socially responsible endeavor. Becoming certified involves a rigorous auditing process, and it is considered a prestigious certification in the manufacturing industry. Working with factories globally, we ensure all of them are WRAP certified.
CAFTA
Despite the pandemic, the United States is seeing a trend of minimum wage on the rise. That is imbalanced with the prices people are willing to pay for clothing. Under the Central America Free Trade Agreement, countries in Central America can buy U.S. cotton, ship it there, weave it there and make fabric, and ship the product back to the U.S. at a reasonable cost. DotDotSmile is proud to be a part of CAFTA for special collections such as our Fashion Collection. Companies across the U.S. participate in CAFTA to assure lower production costs they can pass along to customers, while still using the finest, highest quality raw material for our clothing. DotDotSmile works solely with a WRAP certified factory with high standards of quality control and skilled workers who are treated fairly.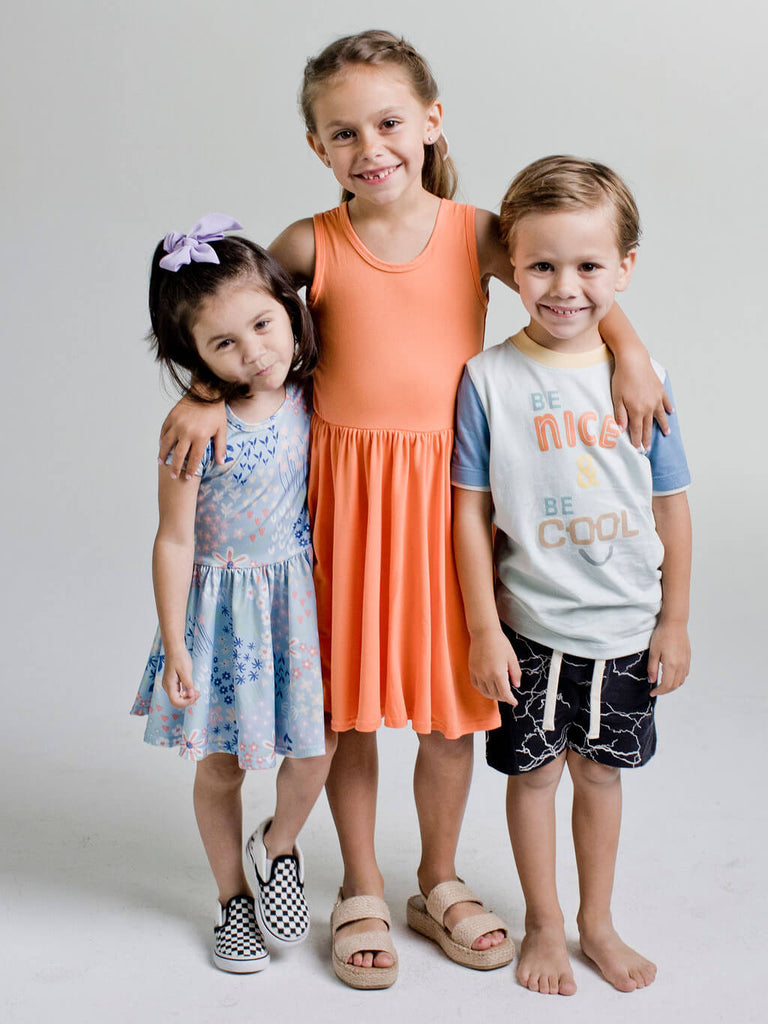 Superior Quality
DotDotSmile does all the little things, extra steps taken, extra care woven in – no easy ...
CUSTOM CREATIONS
Our exclusive, on-point graphics and design can't be duplicated for the masses ...

KID-APPROVED STYLE
DotDotSmile has used the same two fabrics since we opened our doors. ...
ECO-FRIENDLY
While our bioenzyme washes are biodegradable and sustainable, products ...

One Trend Treatment
DotDotSmile collections are gently treated with a natural bioenzyme wash to soften ...
One Stop Safe Shopping
Our online shopping is contactless, and the exclusive children's clothing you cho ...

Ethically Crafted
DotDotSmile is certified in Worldwide Responsible Accredited Production ...